LIU YAN (September 2022 – June 2023)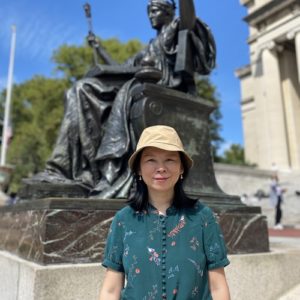 Yan (Fiona) Liu 劉豔, Associate Professor in Chinese Art & Archaeology at the Research Center of Material Science and Archaeology, Institute of Culture and Heritage, Northwestern Polytechnical University in Xi'an. She gained her PhD in Art History at Tsinghua University (2012) and Dphil in Archaeology at Oxford (2015) respectively, and worked as the Christensen Fellow in Chinese Painting at the Ashmolean Museum of Art and Archaeology, University of Oxford prior to NPU. Her main research interests are art and archaeology of early China, excavated texts, interdisciplinary study of prestige gold and lacquers, and cross-cultural interactions across ancient Eurasia. During her fellowship at Columbia, she is working on a new project on artistic exchange and technology transfer in Eurasian antiquity in light of recent archaeological discoveries of early gold in north-west China, with a comparative study of museum collections in the West. This research brings material science into the domains of art historical and archaeological inquires, to examine the interplay between microstructures, ancient technologies and artistic styles of the gold artefacts, providing a new interpretive approach to historical objects with shared crafts and images. It also considers comparative study in specialized craft, religious values, social organization, knowledge communication and long-distance interaction along the networks across north-west China, southern Siberia, Central Asia and far west to the Mediterranean world.
Featured publications see https://oxford.academia.edu/YanLiu.
Email: [email protected]
---