Spring and Autumn Historiography
Form and Hierarchy in Ancient Chinese Annals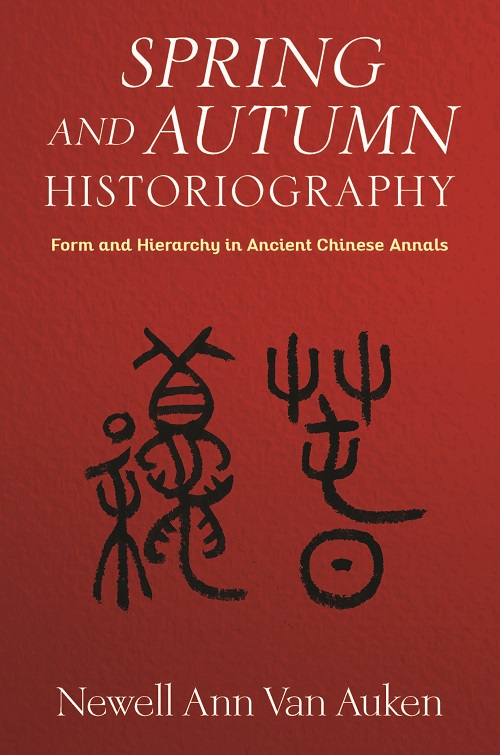 Newell Ann Van Auken
Columbia University Press
The Spring and Autumn is an annals text composed of brief records covering the period 722–479 BCE and written from the perspective of the ancient Chinese state of Lu. A long neglected part of the Chinese canon, it is traditionally ascribed to Confucius, who is said to have embedded his evaluations of events within the text. However, the formulaic and impersonal records do not resemble the repository of moral judgments that they are alleged to be.
Driven by her discovery that the Spring and Autumn is governed by a system of rules, Newell Ann Van Auken argues that Lu record-keepers—not a later editor—produced the formally regular core of the text. She demonstrates that the Spring and Autumn employs formulaic phrasing and selective omission to encode the priorities of Lu and to communicate the relative importance of individuals, states, and events, and that many of its records are derived from diplomatic announcements received in Lu from regional states and the Zhou court. The Spring and Autumn is fundamentally a document designed to enhance the prestige of Lu, and its records reveal a profound concern with relative rank, displaying an idealized hierarchy that positions the state of Lu and its rulers at the apex. By establishing the Spring and Autumn as a genuine Bronze Age record, this book transforms our understanding of its significance and purpose, and also offers new approaches to the study of ancient annals in early China and elsewhere.
ABOUT THE AUTHOR
Newell Ann Van Auken teaches at the University of Iowa. She is the author of The Commentarial Transformation of the Spring and Autumn (2016).
Please check the press' website here for ordering information.